Kiesel Law LLP Announces JUUL Settlement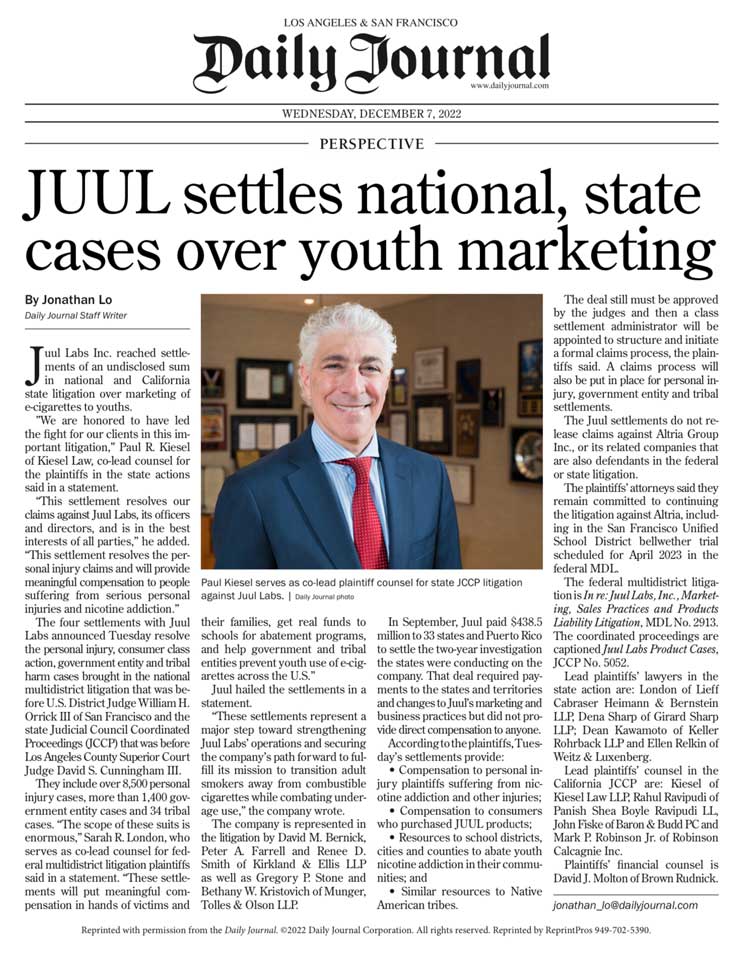 Co-Lead Counsel in the California state court proceeding captioned JUUL Labs Product Cases, JCCP No. 5052 and the federal multidistrict litigation captioned In re: Juul Labs, Inc., Marketing, Sales Practices and Products Liability Litigation, MDL No. 2913, announce the global resolution of all pending personal injury claims filed in state and federal court. These settlements will help address youth use of e-cigarettes.
The settlements follow three-plus years of hard-fought litigation in both state and federal court. Co-Lead Counsel believe that resolving the litigation against Juul Labs and its officers and directors through settlement is in the best interests of all plaintiffs.
Paul R. Kiesel, Co-Lead Counsel, commented, "we are honored to have led the fight for our clients in this important litigation. This settlement resolves our claims against Juul Labs, its officers and directors, and is in the best interests of all parties. This settlement resolves the personal injury claims and will provide meaningful compensation to people suffering from serious personal injuries and nicotine addiction."
The settlements do not release claims against Altria Group, Inc., or its related companies that are also defendants in the federal or state litigation. Co-Lead Counsel remain committed to continuing the litigation against Altria.