Kiesel Law LLP Announces JUUL Settlement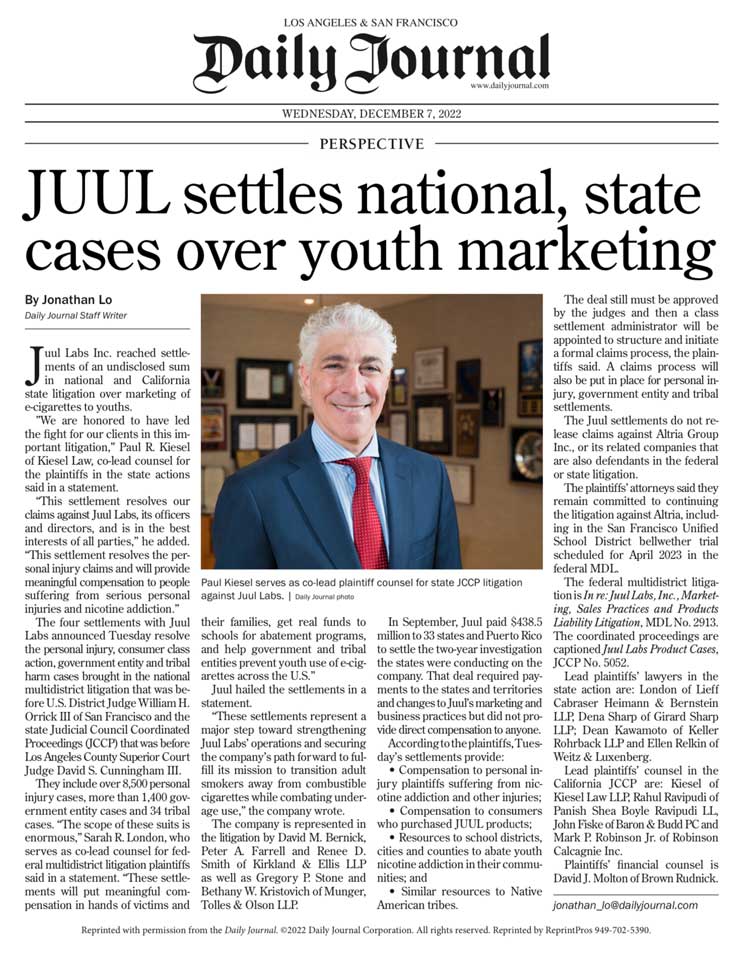 Co-Lead Counsel in the California state court proceeding captioned JUUL Labs Product Cases, JCCP No. 5052 and the federal multidistrict litigation captioned In re: Juul Labs, Inc., Marketing, Sales Practices and Products Liability Litigation, MDL No. 2913, announce the global resolution of all pending personal injury claims filed in state and federal court. These settlements will help address youth use of e-cigarettes.
Juul Labs Settlements 
The Juul settlements follow three-plus years of hard-fought litigation in both state and federal court. The four settlements include over 8,500 personal injury cases, 1,400 government entity cases, and 34 tribal cases. Co-Lead Counsel believe that resolving the litigation against Juul Labs and its officers and directors through settlement is in the best interests of all plaintiffs.
Paul R. Kiesel, Co-Lead Counsel, commented, "We are honored to have led the fight for our clients in this important litigation. This settlement resolves our claims against Juul Labs, its officers, and directors and is in the best interests of all parties. This settlement resolves the personal injury claims and will provide meaningful compensation to people suffering from serious personal injuries and nicotine addiction."
The Juul settlement is the latest in a series of legal challenges facing the company. In September 2021, Juul agreed to pay $40 million to settle a lawsuit filed by the Federal Trade Commission alleging that the company had made false and misleading statements about the safety of its products. Juul is also facing a number of class-action lawsuits from individuals who claim that they were harmed by the company's products.
The four Juul Labs settlements resolve the personal injury, consumer class action, government entity, and tribal cases brought in the MDL and the JCCP. The settlement will provide the following: 
Meaningful compensation to people suffering from nicotine addiction and other injuries.

Compensation to consumers who purchased JUUL products.

Resources to school districts, cities, and counties to abate youth nicotine addiction in their communities; and

Much-needed funding for Native American tribes.
The Juul MDL settlement is a significant victory for the states that brought the lawsuit. It sends a message to other e-cigarette companies that they will be held accountable for marketing their products to young people. The settlement also provides funding for important research and education efforts to help prevent youth vaping.
The settlements do not release claims against Altria Group, Inc., or its related companies that are also defendants in the federal or state litigation. Co-Lead Counsel remain committed to continuing the litigation against Altria.
Juul Labs Settlement Case Updates 
Here are relevant updates to the Juul MDL as of July 2023: 
In April 2023, Juul Labs, Inc. agreed to pay $462 million to settle lawsuits filed by California and five other states alleging that the company had illegally marketed its e-cigarettes to young people.

California will receive the largest portion of the settlement, at $175.8 million. The money will fund research, education, and enforcement efforts related to e-cigarettes.

The settlement also requires Juul to:

Stop selling all flavored e-cigarettes in the United States.

Remove all of its advertising from social media platforms that are popular with young people.

Pay for a public education campaign about the dangers of e-cigarettes.

Cooperate with state investigations into the sale of e-cigarettes to minors.
For more information on the Juul Labs settlement: 
JUUL Important Litigation Update 01 July 2022
JUUL Litigation 13 May 2023