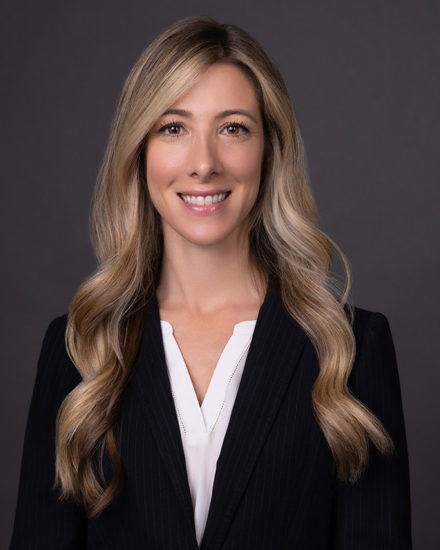 Nicole Ramirez Jones
Senior Associate
Nicole Ramirez Jones is a Senior Associate at Kiesel Law LLP. Her practice focuses on consumer class actions, catastrophic personal injury, and other complex litigation in federal and state court. Of note, Nicole has significant experience in data privacy class actions, including against various hospital systems, from start to finish where she has taken an active role in drafting pleadings and other briefs; argued procedural, discovery and substantive motions; negotiated protective orders and ESI protocols; and assisted with settlement negotiations. Importantly, Nicole has a keen understanding of the underlying technology at issue in data privacy actions.
Nicole also represented various artists in class actions seeking payment of home video royalties from major movies studios including Universal Studios, Paramount Pictures, Twentieth Century Fox, and Sony Pictures. Settlements in those cases resulted in payments to class members exceeding $51 million. Nicole has also represented consumers in class actions against major automobile manufacturers.
In addition to her class action experience, Nicole has extensive experience in complex litigation, and has represented thousands of plaintiffs in multidistrict litigation and California Judicial Council Coordination Proceedings against large corporate defendants.
Ms. Ramirez Jones has other significant civil litigation experience including jury trial work in individual personal injury cases, and appellate work.
Prior to joining Kiesel Law, Nicole represented clients, including insurers, corporations, and individuals, in the area of general liability at a national law firm. She also practiced in the area of consumer finance litigation, where she handled a variety of consumer finance matters, including actions brought under the Fair Debt Collection Practices Act and Fair Credit Reporting Act.
While in law school, Nicole was an editor on the Loyola of Los Angeles Law Review, externed for the Honorable Valerie Baker Fairbank of the U.S. District Court, Central District, and clerked for the Los Angeles County District Attorneys' Office, Major Crimes Division.
Nicole earned her B.A. in both Psychology and Spanish from Pepperdine University and her J.D. from Loyola Law School.
Nicole is licensed to practice before all courts of the State of California as well as the United States District Courts of the Central District, Southern District, Northern District and Eastern District, and the 9th Circuit Court of Appeal.
Nicole serves on the Class Action Preservation Project Committee for the Public Justice Foundation. She also served on the Board of Governors for the Women Lawyers Association of Los Angeles, and served as a volunteer for Court Appointed Special Advocates ("CASA"), where she advocated for foster youth in the judicial system.
Speaking Engagements
"Race in the Courtroom: A Look at How Race and Racial Justice Are Influencing Litigation Across the Legal Spectrum," Annual Litigator's Forum, Women Lawyers Association of Los Angeles, Los Angeles, CA (2021)