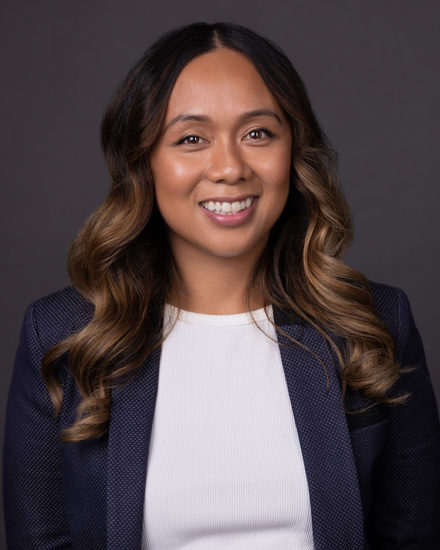 Melanie Meneses Palmer joined Kiesel Law LLP in 2014. Her practice focuses on mass tort litigation, pharmaceutical/medical device liability, consumer class actions, and catastrophic personal injury. She was recognized as a Southern California Rising Star from 2019 through 2022 and a Super Lawyer in 2023. She has tried eight jury trials to verdict, including a 4 week product liability trial in which the jury awarded $6.18 million to a single plaintiff for the life-altering injuries he sustained.
Ms. Palmer has extensive experience in complex litigation, and has represented thousands of plaintiffs in consolidated multidistrict litigation (MDL) and California Judicial Council Coordination Proceedings (JCCP) against large corporate defendants, including Johnson & Johnson, Wright Medical Technology, JUUL Labs, Boston Scientific, and Ford Motor Company. Currently, she holds a leadership position in the California Johnson & Johnson Talcum Powder Cases serving as Plaintiffs' Court Liaison Counsel.
Ms. Palmer began her legal career as a Deputy City Attorney for the City of Los Angeles. While there, she honed her trial and courtroom skills prosecuting criminal misdemeanors. She has also dedicated her time to juvenile advocacy. In law school she represented minors in heavily contested dependency proceedings, and lived in Phnom Penh, Cambodia, to develop programs that provide free legal representation to wrongfully imprisoned youth. Prior to that she devoted a year of service to the AmeriCorps Volunteers in Service to America (VISTA) program, which is a national service program designed to alleviate poverty. In that capacity, she was recognized by the Los Angeles County Board of Supervisors for her service to the Los Angeles public housing community.
Ms. Palmer earned her B.A. in Psychology from the University of San Francisco and her J.D. from the University of San Francisco School of Law. She is licensed to practice before all the courts of the State of California as well as the United States District Courts for the Central, Southern, Northern, and Eastern Districts of California.
Publications:
"How to have your case designated as 'complex' or form a Judicial Council Coordinated Proceeding," Advocate Magazine (Feb 2017) (co-authored)
"Jury Unanimously approves of remote trials," Daily Journal (Feb. 8, 2022) (co-authored)
"Advocating for PI plaintiffs in criminal court," Advocate Magazine (August 2022)